Page 2 of 3
Kidney flush Recipes
Parsley
Cut a bunch parsley and put in a pot pour water boil for 10minute and let it cool down and then filter and pour in a clean bottle. Keep it inside the refrigerator to cool. Drink one glass daily and you will notice all salt and other accumulated poison coming out of your kidney by urination. Parsley is known as best cleansing treatment and its totally natural.
Watermelon Cleanse NOT FOR DIABETICS
The easiest way to cleanse Kidney is to purchase 20 - 100 kg of watermelon (few huge melons), eat all the watermelon throughout a day (as much as you can), while continually empting your urinary bladder into the water. Try to chew and eat few seeds of watermelon.
Watermelon Seed Tea
Watermelon seed tea is a diuretic and stimulant to cleanse and purify the kidneys and bladder. It was also suggested to simulate underactive kidneys. At least once a day, three days a week, take watermelon seed tea prepared by pouring a pint of boiling water over a tablespoonful of watermelon seed (ground or cut) and allowing it to steep. Let it cool, then strain and drink. If practical, the tea should be made fresh for each use.
Lemon Juice
To Disolve most kidney stones located in the renal pelvil, ureters, or in the bladder, drink 3 quarts to 1 gallon of hot water, along with lemon juice or cranberry juice for 3 consecutive days. After this, on the 3rd day 2 oz of olive oil in empty stomach.
Corn silk Tea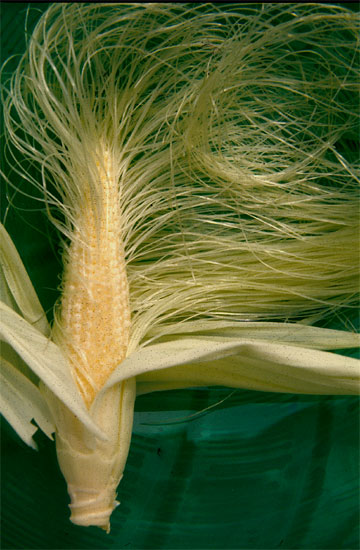 Cornsilk is the long tassels that grow inside the corn husk and is so named for its smooth texture. It's part of the plant's reproductive system and has commercial value separate from the corn itself, especially in herbal medicine. The individual strands of cornsilk can be up to 8 inches long depending on the specific variety. The most common uses for cornsilk in modern times are in treatments for kidney stones and infections of the urinary tract. Cornsilk is a natural diuretic which herbalists frequently prescribe as an alternative to antibiotics. They may also combine cornsilk with other herbs to treat inflammation of the urethra and urinary bladder.  You can use the corn silk from baby corn.
To make cornsilk tea, place a handful of cornsilk into a pot of boiling water and let it steep for 10 minutes. The dosage for treatment of urinary tract infection is a 200 mL cup of cornsilk tea taken three times a day until the patient is well.
The following are the health benefits attributed to Corn silk tea:
Corn silk tea may help in the treatment of urinary tract infections, cystitis, prostatitis, as well as bladder infections. It may also help in reducing irritants in the kidney.
Corn silk tea may help reduce the retention of fluids in the body. In the process, it help detoxify and flush out accumulated toxins in the body.
Corn silk tea may help in the treatment of prostate disorders.
Corn silk tea, when applied topically, may help in healing wounds and skin ulcers.
Corn silk tea may help in the treatment of jaundice.
Corn silk tea may help lower blood pressure.
Corn silk tea may aid in relieving arthritis.
Corn silk  tea is a remedy to help children stop wetting their beds, a condition known as enuresis. It is also a remedy for urinary conditions experienced by the elderly.
Kidney Beans
Kidney beans are considered to be one of the best remedies for treating any kidney disorder especially kidney stones. One can take kidney beans as a cooked vegetables and rice. Daily taking this vegetable will help dissolving the kidney stones. This is one of the best home remedies for kidney stones.